Tradesignal offers a powerful tool to optimize the parameters of your trading strategy. This makes it easy to test your strategy for stability and tweak it for best performance.
The webinar on Tradesignal Optimizer will introduce you to this tool, and most importantly, show you what you should not do when optimizing the parameters of your strategy.
Topics Include:
How to do brute force, walk-forward and monte-carlo optimizations.

How to do in-sample and out-of-sample tests.

How to run a walk forward optimization.

How to interpret the results to find stable parameters which hopefully offer an edge in the future.
Join us for the 40-minute session.
Your Hosts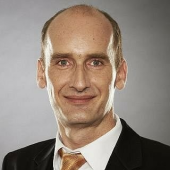 Philipp Kahler former employee at Trayport (previously Tradesignal), is a Senior Quantitative Analyst and and has more than 20 years of experience in developing algorithmic trading strategies. He supports institutional customers in developing and programming sound trading strategies.
If you are unable to attend this one, please have a look at our other webinars. Otherwise, feel free to book in a demo session with one of our specialists.