Trayport's Energy Market Access (EMA) platform enables traders to access over 40 OTC bilateral and exchange traded derivatives markets using the services of prime brokers and GCMs to access energy markets' liquidity.
Trade European physical OTC power and gas directly in the wholesale broker markets via the counterparty credit lines of market access providers currently offering this service on Trayport.
If you are trading on the Exchanges available on Trayport using Joule, you can confidently trade within the limits agreed with your GCM (General Clearing Member).
Speed to Market
You can start trading and/or access new markets through a single relationship with a market access provider enabling you to trade in a shorter timeframe and access new markets where you currently do not have counterparty credit.
Simplicity
Trayport EMA is available in Trayport's Joule screen, combining trading under your own company's name with trading via your provider within Joule. It will ensure that you can trade confidently up to the limits agreed with your market access provider.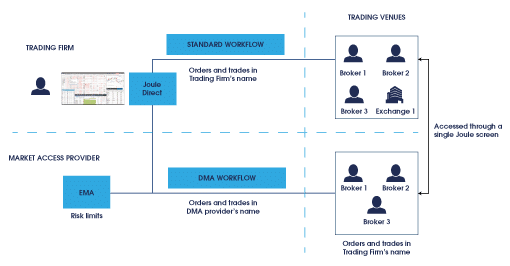 Next Steps
For more information, please contact your prime broker/GCM or Trayport by completing the below form.