At Trayport, our ED&I commitment statement, which guides our ED&I work, is to lead by example by fostering a fair, diverse and inclusive culture of belonging that results in positive change for the people, communities and markets we serve. We do this by setting strategic ED&I objectives to foster inclusive practices, increase workforce representation, and positively impact our clients, markets and communities.
In 2020 we established an employee-led ED&I Council to develop our first ever ED&I strategy. The strategy was launched later that year and has since evolved to focus on education opportunities and tangible progress  across a range of ED&I focus areas. 
Since we formed our ED&I Council we have: 
Launched an ED&I calendar for celebrating diversity across Trayport. 

Launched 'Community Reflections' as employee-led storytelling series where we have heard from our people on an array of topics close to their hearts. Sharing their stories around Pride, Ramadan, St Patrick's Day (and more! We're fortunately a diverse bunch!)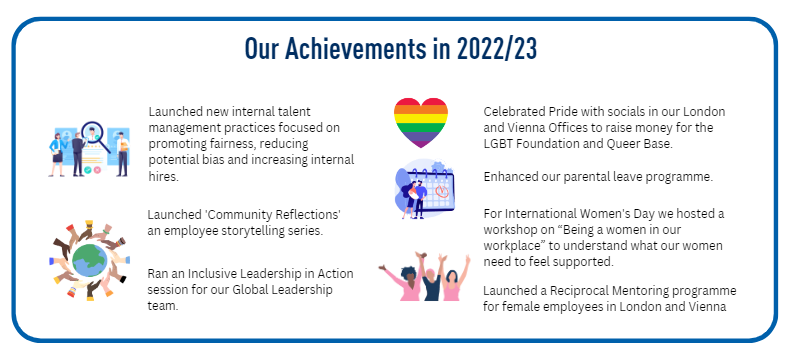 By spotlighting inclusive practices as a focus area, 78% of our people agree that Trayport shows support for equity diversity and inclusion initiatives, an increase of +19% since 2021. This increase is possibly due to the global lens we have on inclusive, educational events we host in our office throughout the year, like Mental Health Awareness, Pride and Black History Month. 
We will be continuing this momentum, along with other programmes and partnerships through a carefully planned future focused three year roadmap which our ED&I Council presented in July this year. The roadmap includes mentoring opportunities, inclusion training for people managers, support of industry leading research on ED&I and a review of our talent processes to ensure they are viewed through an ED&I lens. 
With our global senior leadership team on board, rallying behind the ED&I Council, we know we'll be making big strides in the years to come to show that we are leading by example by fostering a fair, diverse and inclusive culture at Trayport. To find out more check out the TMX Group's 2022 ESG report.