Trayport is a place where talented people never stop learning! So to springboard our employee-led learning culture a few years ago we launched our annual Learning Month, a month dedicated to sharing insightful and meaningful resources. This year each week of Learning Month was centered around one of our core values that help to shape our culture: Courage, Trust and Client-Centric. For our final week we brought all our thoughts together to focus on how our Community shapes our culture. Our Community at Trayport forms such a large part of our culture and what makes Trayport a great place to work.
We understood that joining a live talk doesn't always work with other commitments our employees may have, so we categorised each session with one of the following:

We curated a Learning Month schedule, with content available each day of the month, whether it a podcast recommendation, a Workday Learning course or a live talk, making it accessible for everyone. We held a variety of engaging live talks including 'Finding the courage to have a voice', 'Presenting in a Hybrid World – Let's get it right' and 'Community & Culture – the Perfect Pair'. 
Throughout the month we also delivered a Senior Management Team (SMT) Learning Series, where our SMT members shared their learning recommendations that supported them through their career, we were offered podcast, app, book, TedTalk and online platform recommendations to inspire and motivate our people to enhance their skill set and grow in their careers. 
Over the course of the month we had: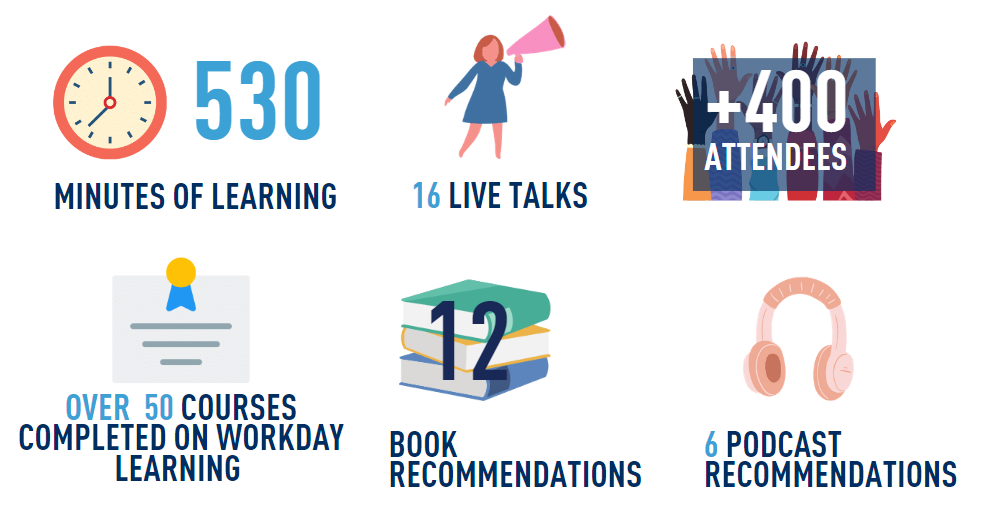 At Trayport developing and inspiring our people is a key priority so resources are available all year round, including a learning platform packed with inductions anyone can join and 1000's of Workday Learning courses.