Efficient power plant management for generation systems
Periotheus Power Plant Management allows you to utilise your power plant complexes as efficiently as possible. Our solution makes it possible to display the structure of a complete power plant complex and to fully automate the use of resulting data.
All power plant types, whether powered by renewable energy or fossil fuels, can be displayed with a high level of detail. Power plants can be depicted as detailed as you wish, and both availabilities and production capacity can be aggregated.
Simple integration with your existing systems
Optimal integration into existing management systems (e.g. Periotheus Schedule Management) is also provided, as well as the possibility of integration into in-house control and optimisation systems.
In addition to Power Plant Management, we offer ideal tools to conduct short-term commercialisation of available production capacities with autoTRADER and interfaces to EPEX SPOT and Nord Pool.
In cooperation with our partner, it is possible to optimise the commercialisation of generation portfolios in various markets (day ahead, intraday & control energy).
Generation portfolios can consist of conventional thermal or hydroelectric power plants or represent a virtual power plant with wind and photovoltaic facilities. The results are again assigned to the planned generation of the power plant in connection with an optimisation run.
Transactions and nominations can be executed on this basis.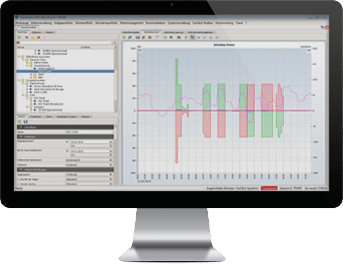 Periotheus REST API Now Available
easily access all permissioned objects within Periotheus
launch Periotheus processes externally and conduct multiple requests at once
easy integration of Periotheus with own automation, programs, and general IT infrastructure
automate complicated configurations and trigger remote programs
write remote programs in any programming language with the respective IDE
access data import/export capabilities such as importing/exporting object and series data; for the latter, even in different formats like JSON, CSV or XLSX
The Periotheus Platform consists of a number of different functional areas that cover various tasks and steps from the value chain process in the energy industry. At the same time it has a number of default functionalities and features across all functional areas, which make working with Periotheus much easier and together contribute significantly to making the Periotheus Platform so unique.
On the one hand this includes functionalities that most users come directly into contact with within their work and that they directly benefit from, for example reporting. However, it also includes functionalities that generally stay hidden from most users, but make a crucial contribution to Periotheus standing the test of use with our customers, such as scalability and great compatibility regarding the system integration.
Next Steps
For more information, get in touch with our team.