Tradesignal
The Tool For Traders,
Portfolio Managers, and Analysts
Tradesignal's easy-to-use tools offer traders, analysts, and portfolio managers the flexibility to utilise functionalities such as drag and drop to augment their experience. Equilla/Python languages allow users to develop and backtest their trading and portfolio management strategies. Users have the ability to create their own strategies or use any one of over 200 predefined out-of-the-box strategies to exploit opportunities and objectively manage risks. The solution integrates seamlessly with Joule, allowing you to extract data for chart analysis, backtesting, and optimisation.
Custom indicators, spreads, and strategies

200+ out-of-the-box indicators and strategies

Multi Time Frame charts of different granularity

Watchlists with Dashboard-function
Easy strategy backtesting and optimisation

Automatic pattern detection

Seasonality and forward curve visualisation

Versatile alert functions
12 combinable chart types, including Bar, Candlestick, Renko, Heikin Ashi, Point & Figure, Three-Line Break, Kagi and Market Profile™
Automatic trendlines and targets for Point & Figure charts
See Your Trading Data In Full Colour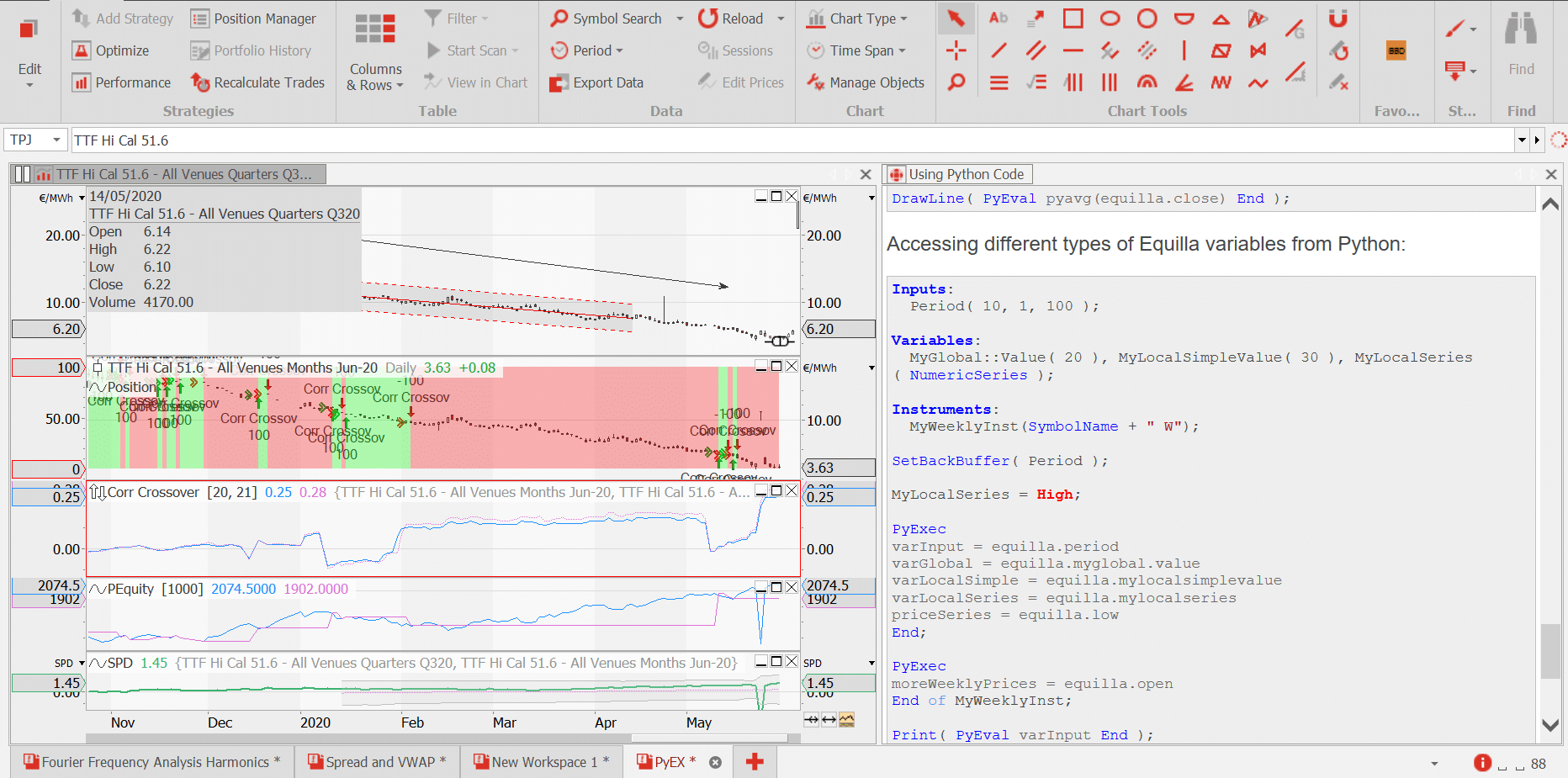 Easy to use charting with powerful tools, flexible layout and personalisation
Create, design and test own strategies using Equilla or Python
Combine different data sources and custom functions to create powerful integrated strategies, with clear indicators
Creation of formula symbols such as custom spreads
Team collaboration through easy to share workspaces
Enhanced Decision Making
Use The Right Charts & Indicators
Tradesignal's charts and indicators provide energy traders with quick and easy access to historical prices and powerful tools for technical analysis to help them identify trading ideas and systematically execute them.
When it comes to testing a particular trading idea for performance and robustness, Tradesignal is the best solution on the market.

SKALIS Asset Management AG
Tradesignal is one of the best tools for technical analysis and an indispensable aid in market analysis.

Baader Bank AG
Data quality is paramount, that's why we've built Tradesignal to interface with world-class trading solutions, allowing for easy historical data retrieval for chart analysis and back-testing of trading strategies. Additionally, all data can be saved, enhancing your database to be an invaluable asset.
Connect to different trading solutions and/or external databases simultaneously to gain insights, such as to create synthetic securities (e.g. spreads) or to merge the prices of several trading venues into a combined instrument.
Tradesignal's out-of-the-box connections are:
Joule – Trayport

Refinitiv Eikon™

Bloomberg

TeleTrader™

Quandl

Morningstar Commodities
Data can also be imported using a CSV file or through the Open Data Interface to connect new data sources.
Current Versions: Tradesignal 10.2 & DataConnect 7.5
In Tradesignal go to File -> Help to see which Tradesignal version you are using. Tradesignal and DataConnect are constantly being developed and receive updates once or twice a year. We will inform you as soon as the next update is available.
FOR TRADESIGNAL (CLIENT APPLICATION).
Recommended system requirements:
Main processor: Core i7 (or faster)
Main memory: 16 GB (or more)
Supported operating systems (64 Bit):
Windows 10
Windows 2012 R2 Server
Windows 2016 Server
FOR TRADESIGNAL DATACONNECT (SERVER APPLICATION).
Recommended system requirements:
Main processor: Core i5 (or better)
Main memory: 8 GB (or more)
Raid system with at least 100GB free disc space
Uninterruptable Power Supply (UPS)