Trayport has always been a big supporter of remote or flexible working, and as with many other companies, we have been in an ongoing discussion about what the future of work looks like. This, coupled with our ambitious goal to grow headcount by 20% in 2020, had us looking at our office space with new eyes. Were we utilising the space in a smart way? What did our employees want in an office space? How can we make it a space employees value and enjoy? How can we future-proof our workplace?
Reviewing Our Space
To answer these questions, we needed to dig a little deeper and better understand how our office was actually used on a day-to-day basis. We conducted a workspace study to assess the general occupation of our space, its functionality, and where employees felt most productive. 10 days, 12 focus groups, and 39,760 observation points later, we had a thorough understanding of what was working and what wasn't.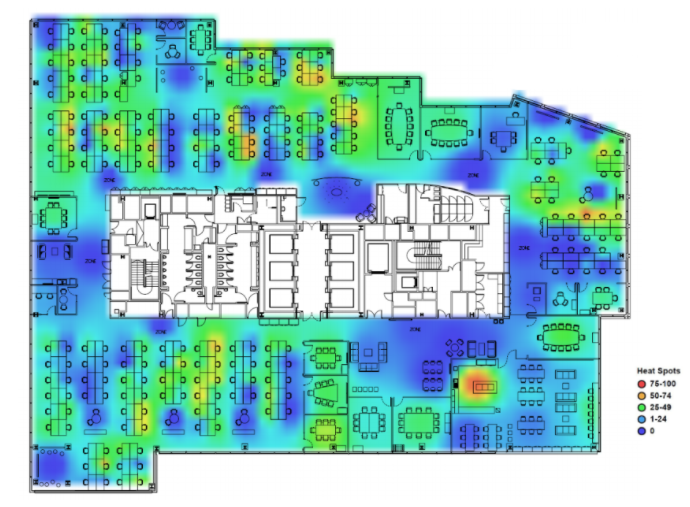 It came as no surprise that our spacious and, crucially, the fully-stocked kitchen was our most utilised space. With the comfortable sofas, collaboration, and social spaces, the kitchen was the most popular to break up the day and meet with colleagues. The lesser-used spaces included some fixed desking areas and our large meeting rooms.
In addition to the workspace study, our employees shared their thoughts on what would make an inspiring and productive environment in which to work:
access to natural light

more planting and colour

more informal meeting rooms

more flexible working environments
In short, our workplace was no longer working for us. The space needs to enhance the unique culture we have at Trayport, whilst supporting work-life balance, embedding our Agile mindset, and facilitating a hybrid working model.
The Renovation
So, with everyone decided and our Senior Management Team onboard, we kicked off our huge office renovation project… Until of course a global pandemic hit, sending the UK into its first lockdown.
But whilst our employees went home, our renovation project steamed ahead.
So what actually changed? (and this is by no means an exhaustive list!)
By moving all meeting rooms to the core of our building, the desk spaces are now able to benefit from the natural sunlight
Our ever-popular kitchen has been enhanced and enlarged, allowing for more flexibility, collaboration, and socialising
In order to support individuals embracing flexible working, we have increased 'touchdown' and alternative working spaces throughout the office
All the AV fitted throughout the office has been meticulously thought out, with the future of how we work in mind
We have invested in awesome sit-stand desking for everyone
We have an active workforce and encourage employees to take part in company activities, such as our football, running teams, and in-office yoga. As such, we needed to increase and improve our washroom facilities
The workplace now benefits from 80% more planting, including an incredible live moss wall
A pop of colour has been added throughout to lift and give life to the space, with an exposed blue ceiling and colourful furniture
Embracing Hybrid Working
Of course, a huge driver for the renovation project and a big change we have embraced as a company is hybrid working and the future of work. We understand that people want to work remotely, but having an office to come into, especially one that enhances collaboration and has human connection at its core, is also essential.
The result of our extensive renovation is an office that pulls people in and brings them together, and one I'm immensely proud of. It allows our people to seamlessly move between remote and office working, whilst connecting our global workforce.
There's a new buzz in the office, and I cannot wait to open our doors to employees fully.